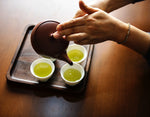 Vaginal health is an intricate and thorny subject. As women, we know how frightening it's when a diagnosis confirms a medical problem attacking down *there*.
Out of all the infections that affect vaginal health, the most prevalent are yeast infections. An estimation says that almost 75% of women experience a yeast infection once in a lifetime. And, 40-45% of them have recurrent cases. 
Itching, pain, and inflammation are the early symptoms of a yeast infection. As a result, you face difficulties while urinating and making out with your partner. If the condition aggravates, the symptoms might vary from soreness in the vaginal area to frequent clumpy, white discharge that lacks odour. 
All in all, yeast infections are terribly uncomfortable to live with and throw a patient's well-being in disarray.

Causes of Yeast Infections 
Yeast infections attack when the body immunity is weakened and doesn't put up strong defensive resistance. Other causes are: 
Prolonged Use of Antibiotics;

Uncontrolled Diabetes;

Pregnancy;

Poor Dietary Habits;

Hormonal Imbalance Near the Time of Menstruation

Excessive Use of Contraceptive Pills

Stress and Lack of Sleep
Yeast Infections Can Be Treated Organically? Let's Find Out. 
But ladies, the good news is - yeast infections are 100% treatable, and the symptoms go away in a matter of days or a week. Lately, there's a growing hype about Green Tea being a potent remedy for yeast infections. 
This has stoked up our interest in establishing facts about Green Tea treating Yeast Infection, and we have come up with a long guide on the subject that will go a long way in dispelling your doubts.
So, without further ado, let's dive right in. 
Green Tea for Treating Yeast Infections. Is There Any Truth in the Claims? 
A weak immune system is one of the main causes of yeast infections. Green Tea has strong antioxidant properties, very effective in boosting the immune system and guarding vaginas against yeast attacks. 
Also, Green Tea is a powerful antibacterial agent, which makes it an efficacious cure against yeast infections.   
A study published in the Canadian Journal of Microbiology established Green Tea's efficiency in treating yeast infections. According to the study - 'Green Tea disrupts the establishment of Candida Albicans.' 
Researchers found that there are specific compounds in Green Tea, inhibiting the growth of Candida Albicans yeast cells by preventing them from attaching to each other. 
Another study suggested that Green Tea can be used in neutralizing the excess yeast cells formation in the vaginal area, and thus, weakens the effect. 
That said, Green Tea as a solution to Yeast Infection isn't just an abstract idea, but a scientifically backed notion.
How Often Should Green Tea Be Consumed to Treat Yeast Infection? 
Green Tea consumption is greatly encouraged for combating yeast infections. Researchers at the University of Maryland recommend taking 250 - 500 mg daily.
 A daily dose of 50-150 mg of Green Tea can provide enough antioxidants to boost the immune system and reduce the severity of yeast infection.
 You can prepare a Green Tea drink for oral consumption using either loose leaves or tea bags. Wondering where you can buy Green Tea? Assamicaagro provides the best quality of Green Tea at very buyable rates. We also provide Green Tea packages, which are great value for money.
External Application of Green Tea 
Applying Green Tea bags directly on the affected vaginal region can provide a cooling and soothing relief from the pain and burning sensation associated with yeast infection.
Once you've used the tea bag for preparing the drink, put it in the refrigerator until cooled. Once cooled off, apply the tea bag in the vaginal area for relief.

Potential Side Effects of Green Tea 
Green tea has some side effects too; however, none of the symptoms is serious in nature. Some of the common side effects are nausea, headache, upset stomach, vomiting, and dizziness. 
Note: Pregnant or Breastfeeding mothers should exercise caution while using Green Tea for Yeast Infection. It's recommended that they must consult a gynaecologist before taking Green Tea. Also, patients who use blood-thinning medications shouldn't use Green Tea without medical consultation.