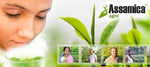 Assamica Agro invites all tea drinkers to try the choicest green tea in the country – it's yummy loose leaf green tea! 
Buying Your Very Own Loose Leaf Green Tea
The best thing about drinking loose leaf or whole leaf green tea is that there are so many ways to prepare it. You can blend loose leaf green tea with various herbs & spices of your choice and go the usual way of brewing directly into hot water, use a tea ball, infuser or use some home made cotton teabags. The natural handmade teabags provided by Assamica Agro are created to perfection, to ensure that the flavor of the tea leaves fuses into the hot water the best way possible. It makes such great tea, but more so it allows the drinker to get maximum benefit from its nutrients. 
                Assamica Agro brings this potential to reality with its loose whole green leaf tea! Tea lovers will love just how tasty and healthy Assamica Agro's version is, and by doing the brewing themselves, drinkers can see firsthand just how easy it is to create a refreshing and healthy drink. With just two and a half grams of its top quality loose green leaf tea, and a good serving of boiling water, the tea would be ready in as fast as two to three minutes. Then, if flavors are desired, a good couple of spoons of honey or sugar would do the trick.
Buy Loose Leaf Green Tea at Assamica Agro!
                There is only one place you need to go if you want the best green tea in India. There is simply no comparing the quality of loose green tea leaves from www.assamicaagro.in. The website is just like your neighborhood tea shop, only better. On the site you can choose from a variety of tea variants, including whole  leaf green tea. What's better is if buyers choose to purchase from the site, they can get to know more about the various tea flavors. For instance, for leaf green tea in loose, drinkers contribute their thoughts by leaving online reviews. It gives you an idea of just how good the tea is, even before you try it.
                For just USD6.25 (discounted from USD8.12), you can now purchase your favorite loose green leaf tea. This 250 gram package is perfect for anyone who wants to develop a habit of drinking top quality green tea. What's best is that shipping is available; your orders will be delivered within 1 to 2 days.
The Loose Leaf Green Tea Advantage
                Loose green tea leaves are generally larger,  thus they are more jam packed with benefits. For instance, these loose green tea leaves are rich in catechin, the antioxidant that battles cancer. It also contains more vitamins to battle other conditions such as high blood pressure and cholesterol. It is ideal for people who have a sedentary lifestyle, such as office employees and the elderly. Loose leaf or whole leaf green tea always guarantees more of the healthy goodness compared tea dusts or fanning grade tea prepared in regular tea bags. Read more on the difference between normal tea bags versus Assamica Agro full leaf tea bags.
                In addition, a cup prepared with loose leaf green tea certainly has better aroma. The scent makes the drink all the more delectable, and with more nutrients packed into the leaves, how good can this cup get? There are drinkers who observe that bagged tea tastes a bitter and flaky. You won't have anything like that with Assamica Agro's loose leaf green tea.
              Lastly,  leaf green tea remains fresh for a longer time. Assamica Agro's loose green leaf tea can go as far as six to eight months, and still deliver that perfect taste. The taste would be no different from a newly picked set. This would make the leaves perfect for storage, and ideal gifts as well.
              If you want a unique experience, try drinking Assamica Agro's loose leaf green tea. Try a serving at www.assamicaagro.in, and experience the health benefits first hand.