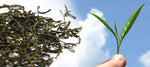 Assam is widely recognized as one of the world's great gourmet teas. Taking its name from the area of northern India where it's produced, it's usually associated with the dark, aromatic infusion enjoyed either made with the pure leaf or as part of a typical 'English Breakfast' blend. However, the Assam variety of tea plant is highly versatile, and its leaves are just as suited to making green tea, with all the well known health benefits of green tea that go with its delicious taste. 
This particular loose leaf product is sourced in Upper Assam and is grown and hand-harvested by small scale farmers using purely organic techniques to ensure the highest quality and integrity. 
Why Choose Assamica Agro Green Tea? 
Green tea is simply the young shoots of normal tea plants, known botanically as camellia sinensis, preserved quickly to maintain the leaves' distinctive properties. Compared to more mature pickings, the loose leaves of green tea shoots are lower in caffeine but packed with antioxidants such as catechin, along with other nutrients such as vitamin B, folate, and minerals. The history of green tea in India and China has long held that it is effective as an aid to weight loss and cholesterol reduction, a preventative against cancer, and a booster of brain function along with many other medical and health benefits. 
The young leaves and shoots used in this premium loose leaf green tea are picked every four to five days to ensure maximum concentration of the essential components, and processed using the green tea method of steaming the fresh leaves to better seal in their properties compared to the normal black tea process which involves a degree of fermentation. 
Choose Loose Leaf for Quality 
The best green tea to buy online should always be a loose leaf product like this one. By choosing to buy whole leaf green tea you can be sure that you're getting the best quality green teas rather than the low grade off-cuts and dust that sometimes find their way into lesser quality teabags. Whole leaves retain higher concentrations of the flavenoids, minerals, and essential oils that make green tea so valuable for health as well as preserving the leaves' flavor. 
An organic tea such as this is also preferable - why risk the health-giving properties of green tea by contamination with the chemical fertilizers often used in mass production? By only using the young shoots of plants grown organically on a small scale, this loose leaf green tea ensures the purity of the product. 
Cost Effectiveness 
Buying leaf green tea offers the most cost effective and flexible way of enjoying the drink, as you can brew as much or as little as you want compared to the ready-measured portions in teabags. Even better, the same leaves can be used for two or three separate infusions, making these high quality leaves go even further for the low price you pay. 
The Taste Test 
No green tea review would be complete without covering the taste. Even among green teas, this Assamica variety has a particularly fresh, vibrant, and grassy flavor. However, like most varieties, it can also can tend towards bitterness if incorrectly brewed. This bitter quality is a result of the cancer-protecting catechins which green tea possesses in abundance, but fortunately you can completely eliminate the harsh taste by brewing the loose leaf tea at a slightly lower temperature than one would with black tea. Boil filtered water for best results, and allow it to cool slightly before starting the infusion - around 80 degrees Celsius is ideal. Assamica green tea made this way retains its essential health benefits and its distinctive fresh taste without crossing the line into bitterness. 
If you're looking to enjoy the health benefits and great flavor of green tea, then this loose leaf organic green tea from Assamica Agro is the ideal way of doing so.
Related Blogs:                                                                                                      
Related Products: